Cattle for sale can be listed here by contacting Sue yorkvale@xtra.co.nz
Please supply details, photos and contact details of seller. NB. AI sires must be approved by NZ Council for registration of calves.
For Sale – Murray Grey Cattle – North Waikato
After more than 30 years of breeding, it is now time to reduce the workload and sell some beloved Murray Greys.
Fantastic quiet cattle,  autumn and spring calvers, R2 heifers and weaner calves.
Most of these are unregistered but there are good records available if you want to look to do that.
Also for sale is the award winning (A&P Meat & Wool Cup winner) Koromiko Hannibal
Call Peter McIntosh (09 2334 802)
Or Garry (son in law) 022 639 3668
Chequers Murray Grey stud Bay of Plenty
Rising two year old bulls for sale.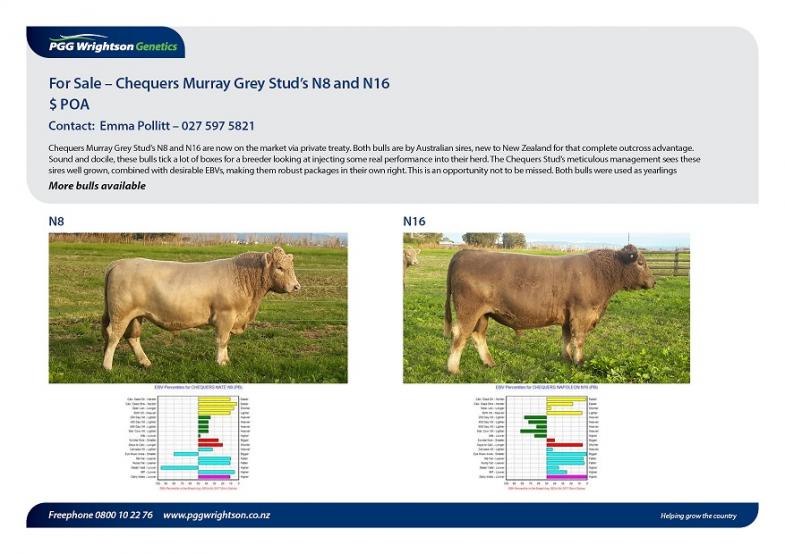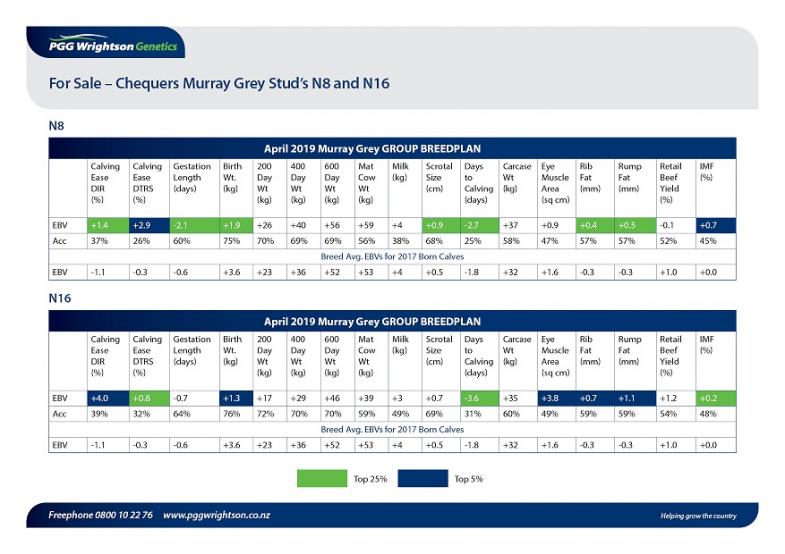 Rising 2 year old bull for sale through StockX  
Chequers Nitro N18
Chequers Murray Greys has just listed Chequers 'Nitro' N18 for sale with StockX.
N18's dam, C. Buckley Poppy H3, is one of the top cows in our herd. Having just weaned her 5th calf, an outstanding heifer, she has 1 daughter in the herd & 2 sons at stud.
N18's AI sire, Woodbourn Warrior A69 has bred well in Australia.He has sons & grandsons that are breeding well.
Photos are of N18, his dam H3 & sire A69. N18 is a correct well structured bull of 22mths. He was used lightly as a yrlg.
He has been scanned for EMA, Fats & IMF. His EMA ebv of +3.1 is almost twice the breed aveage. N18 was 40kg at birth & growth rate to weaning of 1,26kg/d. Nitro N18's wt on the 19/5/19 was 620kg.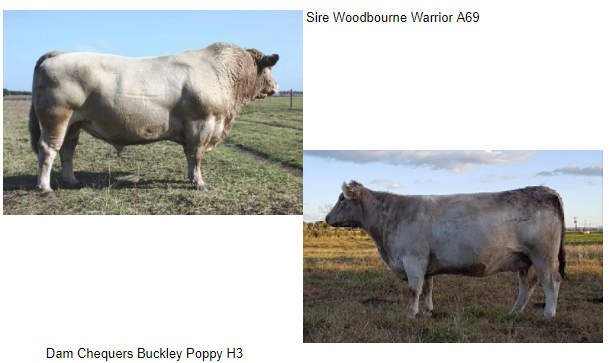 Semen for sale ex Australia import at buyers expense
Contact - Courtney Hazeldene
Ganado Lionel MVA L4
*Licensed to EU, US, NZ & AUS standards. No minimum purchase, discount for bulk lots over 100.*
Asking Price $80 AUD per straw. No minimum purchase, discount for bulk lots over 100. Buyer to pay shipping.
Supreme Exhibit Royal Melbourne Show.
Outstanding capacity, spring of rib, rump and structure. An exceptional bull that has great muscling and fat cover and holds his weight through tough conditions. He will add important kg's onto your calves. Kg's = $$!
Lionel is suitable for both stud and commercial operations - try him in your purebred or cross breeding program today. His actual weight & scanning data is as follows: - Actual Birth Weight - 44kg (unassisted birth) - Actual 200 Day Weight - 339kg. Hip Height 120cm. - Actual 400 Day Weight - 547kg. Hip height 134cm - Actual 600 Day Weight - 922kg. - Scan Data - P8 Fat 14. Rib Fat 13. EMA 132 (at 600 days) Proven sire, average birth weight of calves is 38.5kg.
Semen straws for sale by Chequers Murray Greys
Lerwick Park 'Buckley' – 28 straws. $35/straw, min order 5 straws.
Karakara 'Burleigh' – 17 straws. $35/straw, min order 5 straws.
Cadfor 'Genesis' – 4 straws. $35/straw, min order 4 straws.
Orders must be placed with Chequers Murray Greys, c/- Neill Burke ph 07 3222 680, or 021 890705. Semen is stored at Semex Morrinsville.
Handling & shipping at the cost of purchaser.