Hi All
I hope the new year is starting off well with your calves looking good as we near weaning time. As usual the weather is dictating our daily farming practices, and here in Canterbury we are drying out significantly even though we are getting the odd shower of rain.
The 2020 year ended rather sadly for me and would say many other Murray Grey breeders felt the same with the unexpected loss of a well known breeder, Neill Burke.  Our thoughts go out to Jane and family.
Cheers
George Climo
---
Obituary; Neill Burke 1949-2020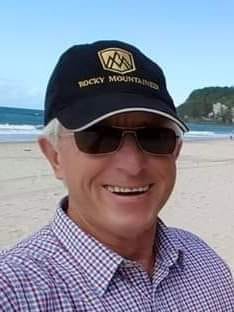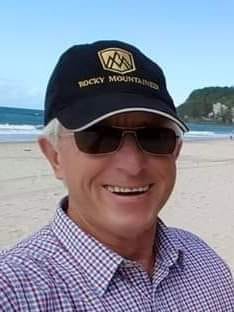 The NZ Murray Grey breeders have lost a passionate and enthusiastic breeder with the passing of Neill Burke on 27th December 2020. The Chequers bloodlines are distributed throughout New Zealand and Neills visits to many Australian studs have made the Chequers name known on the other side of the Tasman as well. Neill was always searching for the blood line that would improve not only his own herd but those of other studs and commercial breeders in New Zealand as well.
Neill and Jane registered their first cows in 2005 and the first 3 registered Chequers calves were born to three dams from the Riverview stud of Joe Adams, by Marire Step Aside, a grandson of Marire Gambler, one of the foundation sires of the breed in NZ. One of those Riverview cows , X1007, born in 2002 went on to have 14 calves in the Chequers herd. The following year, 2006, more cows were added from the Kensington stud and from then on Neill sourced cows from various herds around the North Island in his quest for improving the traits and building his herd.
In his first years as a breeder and quest for knowledge Neill and Jane visited several breeders and attended Breeders club meetings around the country. They also went with a group of NZ MG breeders to the World Murray Grey Congress held in Perth WA in October 2005. Many of you will have had contact with Neill, forever researching traits, ways of assessing them in the live animal, sharing tit bits of cattle breeding lore which he had unearthed, checking blood lines and comparing notes. Neill was an avid user of the on-line 'Mating Predictor" on the Murray Grey website. The breeders' crystal ball on trying to determine what the offspring from a particular mating could do to improve his herd! His history and prowess in orchid breeding transferred easily to cattle. The same search for perfection by mating A to B, C or D has similarities in both cattle and flowers!
Serving for a time on the MG Council gave Neill more insight into the workings behind the scenes and his passion for marketing and advertising, he also ran a survey to try and move the breed forward, but became frustrated due to a lack of enthusiasm by some of the more conservative members. He contributed several articles to the MG Progress magazine from information he gleaned from outside sources with articles on health, breeding and selection criteria which made the annual magazine an informative annual publication along with individual club and stud and sale reports.
Our thanks must go to the amount of time Neill and Jane spent travelling to Australia, visiting studs, forming friendships and purchasing semen and embryos to improve the NZ blood lines. We have seen the national MG registered herd shrink from 13,290 in 2001 to 4068 in 2019 so it becomes more and more important to continue to source new blood.
Neill was dedicated to the process of improvement year on year and the prospect of retirement though often discussed was never quite obtainable, because there is always next years mating to consider. Jane, who was always an integral part of Chequers decision making and Neill's daughter Sarah, have vowed to keep the Chequers herd moving in the direction Neill would have approved. Our sincere wishes go to the family and that Neill's legacy will continue under your care.
---
Election of Council Members 2021
The Council are elected by postal ballot for a period of three years.  Nominations are now sought for the SIX vacancies. All current councillors are available for re-election.
If you wish to nominate a candidate for the Council, please complete the Nomination Form and return to the office no later than 5.00pm Wednesday 7th April 2021.
Written consent of the nominee (signature) must be furnished to the office not later than the closing date for nominations, otherwise the nomination is invalid.
A nomination form is included in this newsletter.
Lindy Lawrence
Breed Administrator
---
Website Update
Our By-laws will soon be posted on the Murray Grey website.
We encourage all members to post their data online (e.g. calving returns, weights and other measures) Instructions on how to enter calf returns etc online are on the web site under Technical Articles.
---
AGM
We are planning to have the AGM at the end of May in Canterbury.  Dates and updated information will be emailed to members.  The itinerary will be similar to last year's cancelled AGM.
---
Online Sale
The council is looking into having an online sale in conjunction with the AGM.  At this stage we are thinking we will have a female sale only.  Please if you have any ideas or thoughts contact George Climo.
---
Don't forget to send in your Calf Regos
Most Breeders will have a username and password to enable them to get into their online transactions. We can send a worksheet that pre-prints calves for weights or active cows for calf entries to anyone who enters data online.
After you have entered your password, go to:
Online transactions > Calf Entries, Create from a pre-built worksheet and the list of cows will come up. From there, you may untick animals you don't want to record a calf against and then continue. Another list will come up. Click on each item number, then enter your calf details.
I have attached a Tip Sheet to help guide you. Call me if you need any help.
Good luck.
Linda Rule
---
New Members
We would like to welcome a new member – Michael Malmo, 217 Kingston Road, RD 4 Palmerston North.  Michael is also a Simmental breeder.
Handbook
This is being updated and should be sent out to all new members by the end of March.
---
Calendar
I would like to thank Mike Gray for the great job he did in producing the calendar at short notice.  This is going to become an annual product, so if any of you have some great photos for future calendars please email them in.  More information on next year's calendar will be sent out during the year.
---
2021 Beef + Lamb NZ Future Beef Hoof and Hook
Competition entries are officially open for 2021.
When: 7th – 9th of May
Where: Hawke's Bay Showgrounds
To register interest, please e-mail info@futurebeef.co.nz by 31st March 2021
Over the coming weeks, more in-depth information will be available on their Facebook Page. If you have any questions please don't hesitate to get in touch by emailing: info@futurebeef.co.nz OR head to our website www.futurebeef.co.nz
---
Neogen Genomics Pricing
If you have any questions regarding your DNA requirements, please contact Megan at PBB or email dna@pbbnz.com
Murray Grey Bundle
(recommended for used sires)
$51+gst
+$29+gst
(if CA needs to be included)
Includes:
50K SNP profile
Percentage
CA
Leptin test (explanation will be sent to the results)
Murray Grey Bundle + BVD
$58+gst
+$29+gst
(if CA needs to be included)
Includes:
As above with the addition of BVD add-on
50K SNP Profile
$51+gst
Includes:
Parentage
Murray Grey Bundle + BVD
SeekSire test
$28+gst
Parentage only
BVD stand-alone test
$20+gst
Improve your herd genomics
For more information contact PBB
06 323 4484